Delaying The Onset of Alzheimer's Disease
Researchers at The University of Queensland and the Royal Brisbane Hospital are seeking volunteers to take part in an international study looking at the effectiveness of a new drug in delaying the onset of Alzheimer's disease.
The investigational drug aims to block an enzyme involved in the formation of amyloid plaques in the brain, one of the hallmark pathological features of Alzheimer's disease.  The aim of the study is to slow down or prevent the formation of these plaques before they cause any of the memory problems usually seen in Alzheimer's disease.
The study will be conducted over 5 years with participants being asked to take the study medication once a day over that period of time.  There is a one in three chance that they will be allocated to receive placebo (a look-alike tablet with no active ingredient), a one in 3 chance they will receive a low dose of the study drug, and a one in three chance they will receive a higher dose of the study drug.  They will need to attend the Royal Brisbane & Women's Hospital approximately 35 times over the duration of the study and will undergo rigorous safety monitoring throughout the study with frequent blood tests, ECGs, and MRIs.  They will have their memory tested on a 6-monthly basis and undergo 3 PET scans of their brains.  Travel and parking costs will be reimbursed.
To be eligible for this study, participants must be at least 60 years of age, in good health, and showing no signs of memory loss.  They must have someone who knows them well who is able to accompany them to the hospital, at least annually, to answer questions about how they're going.  For people between the ages of 60 and 65, they must also have a first degree relative who has been diagnosed with dementia.  Potential participants will be tested for the presence of amyloid plaques through a PET scan of their brain.  If the test is positive, they will then be asked to participate in the study.
If you would like further information about this study, please contact either Liz Arnold or Lisa Mackenzie on (07) 3365 5147 or email adtrials@uq.edu.au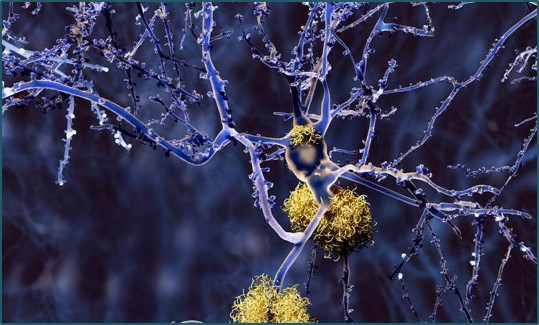 A neuron with amyloid-plaques. Credit: Juan Gärtner/ Fotolia